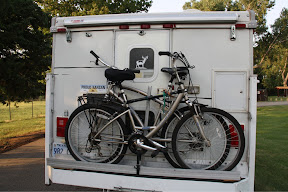 These pictures were taken at the Ellsworth Rest Stop on I70. We stopped for supper--brats, potatoes, onions & broccoli cooked while driving in the truckers oven--more on that another time.
Anyway, this is Dan's answer to how we are carrying our bikes to Alaska. The aluminum tray is normally used to carry a motorcycle. It is bolted onto a salvaged swivel chair mechanism. The upright in the middle that the bikes are strapped to is a handyman jack upright and stand. So far it is riding well, without any scratches on the camper.
Hoping to make it to Quinter tonight which is half way to Doug, Drue, Trent & Carly's home in Monument, CO.
Location:N 1150 Rd,,United States