I have to admit, I got rather paranoid last night.
I mentioned we were at Portage Glacier. However, I don't think I mentioned how hard it was raining and blowing. I told myself there is no worry about wind damage in Alaska, but then I thought of the high mountains around me and then I thought flash flood. So, I went to bed, went to sleep and nothing happened. As Dan pointed out this morning, all water drains into the sea from where we were and it's hard to back that one up!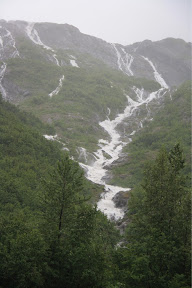 It was still raining just as hard this morning so we decided to move on with our day and not enjoy our coffee as usual. That is how we managed to eat at the Portage Glacier Lodge. What a surprise--another place for my "must go to in Alaska" list. It is just a little dinner, but Dan had a very delicious (I tasted it) Alaskan Skillet with eggs, green onions, boursin cheese, and smoked salmon. I had two huge pancakes. Once again we learned so much by talking to those who live here.
They told us the Portage Glacier valley including Whittier has in the past received more snow than any location in Alaska. Whittier is an old military town where supplies were brought in during WWII. There are tunnels connecting most of the buildings because it gets so much snow in the winter. It is only in the past ten years that the one-way 2 1/4 mile tunnel has been converted to allow cars to alternately go back and forth when there is no train.
The tunnel is impressive. I am glad we experienced it. There was a huge cruise ship in port at Whittier, which was the only excitement there. Definitely, a working port.
As we drove out of the valley, it was still raining heavily. By the time we arrived at Anchorage, there was a sliver of sun here and there. Our friend, Carol from the museum in Soldotna told us to to to the Alaska Native Medical Center for beautiful displays of native art and creativity. She was right. When the Alaska Natives require extended stays at the hospital, they fill their time creatively carving bone, sewing animal fur, beadwork as well as wood and silver carving. It is beautifully displayed and all for sale in the gift shop. So tempting but very expensive.
From there, we are headed to Denali.